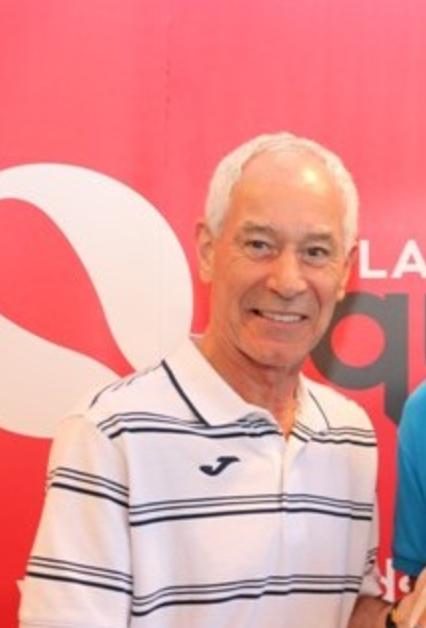 In the summer of 1950, John Rae was born in Govan in Glasgow, a place renowned for the creation of sporting stars such as Ferguson and Baxter but not perhaps a gentleman such as John.
An excellent footballer, he played professionally for Kilmarnock and Coventry giving up the game at the tender age of 27 to concentrate on obtaining a degree in engineering and so get away from the, in those days, insecure life of a football player.
John had a very successful professional career having run his own substantial building company and then creating a thriving consulting engineering company specialising in heating and ventilation. He was extremely well known and respected in his sector, having some very famous names as clients and friends.
John did not start to play squash seriously until his early fifties. Perhaps this coincided with the development of his consultancy practice, which gave him a little more time to concentrate on himself and thus fall in love with the game.
He started playing the Scottish masters tournaments and by the time he was 60, John was fighting for the top slot in the Scottish team.
His game was based on his formaidable fitness which was founded on his long early morning runs with his two beloved dogs. He developed a clever, simple but highly effective playing strategy very much in keeping with a precise tidy man who could master complex issues.
On a squash court you cannot hide your true character and John was able to mix his great determination with the honesty and compassion of a true competitor, and as such was respected and liked by all.
For many years he played principally for Newlands in Glasgow and Mammas in Edinburgh in the West and East leagues. In team matches, many a younger person has gone on court late on a Wednesday evening quietly confident of beating John – a much older person, only to lose comprehensively.
Capped countless times by Scotland, his most successful season was 2017/18 when not only did he win the European Championship in his age group but also 5 English masters tournaments. Such was his success in England that he was given the title of Player of the Year.
Universally liked, John successfully mixed the determination and hard work of a winner with a charming humanity.
The funeral will be on Friday 15th November at 2:30 PM at Camelon Crematorium in Falkirk.